Our collection contains a rich living heritage: the expertise of the artisans who crafted numerous pieces with a quality of workmanship that is no longer available today.
Our master classes, our documentation centre and our internship program work to preserve this valuable expertise and to build bridges between up-and-coming and established designers.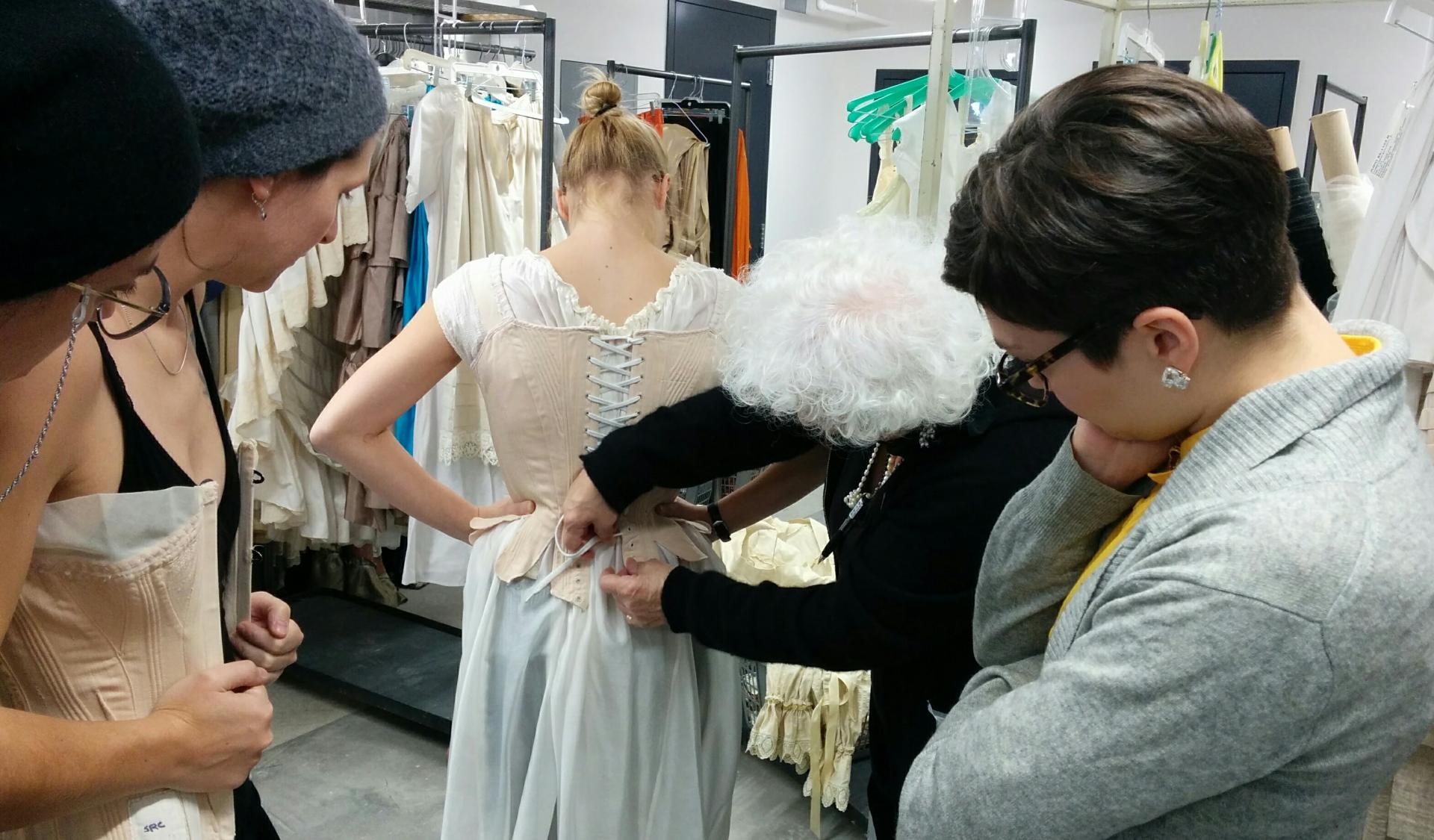 Please note that our training is suspended until further notice due to the COVID-19 pandemic. We invite you to subscribe to our waiting list at info@grandcostumier.com to receive updates.
Le Grand Costumier ensures the transmission of expertise in the costume-making trades by offering professional training. Intended for both up-and-coming and established designers, our training is taught by seasoned creators and covers many areas of expertise.
2 workshops are currently offered:
1. Otimize the preparation and progress of a costume fitting
Instructor: Louise Jobin. Costume designer for over 40 years, Louise has worked on numerous productions and cultural projects throughout her career (theater, cinema, opera, etc.) and teaches at the National Theater School of Canada.
Objectives:
- How to optimize the preparation and progress of a costume fitting by taking the measurements of the people to be dressed and the clothes chosen.
- How to make an efficient fitting with a minimum of alterations.
Schedule: 2 periods of 4 hours
Participants: 8 to 10 people. This training is not intended for the general public.
Fees (taxes non included):
$200 for the 2 sessions.
Next training: TBC
----
2. Hat maintenance and repair
Instructor: Lucie Grégoire, has been a hat designer for 25 years.
Objective:
- Provide costume workers with basic skills to maintain, repair, adjust, modify, and trim men's and women's hats.

Schedule: 3 courses of 3 hours each. All 3 courses must be taken.
Fees (taxes not included):
$250 for all 3 courses.
Next training: TBC
For more information, contact info@grandcostumier.com or 438-896-4646.
Each year, Le Grand Costumier welcomes interns from various backgrounds. These internships allow different generations of designers to make important connections, and serve to enhance the collection's exceptional pieces. To become an intern, contact us at info@grandcostumier.com​.