Our collection contains a rich living heritage: the expertise of the artisans who crafted numerous pieces with a quality of workmanship that is no longer available today.
Our master classes, our documentation centre and our internship program work to preserve this valuable expertise and to build bridges between up-and-coming and established designers.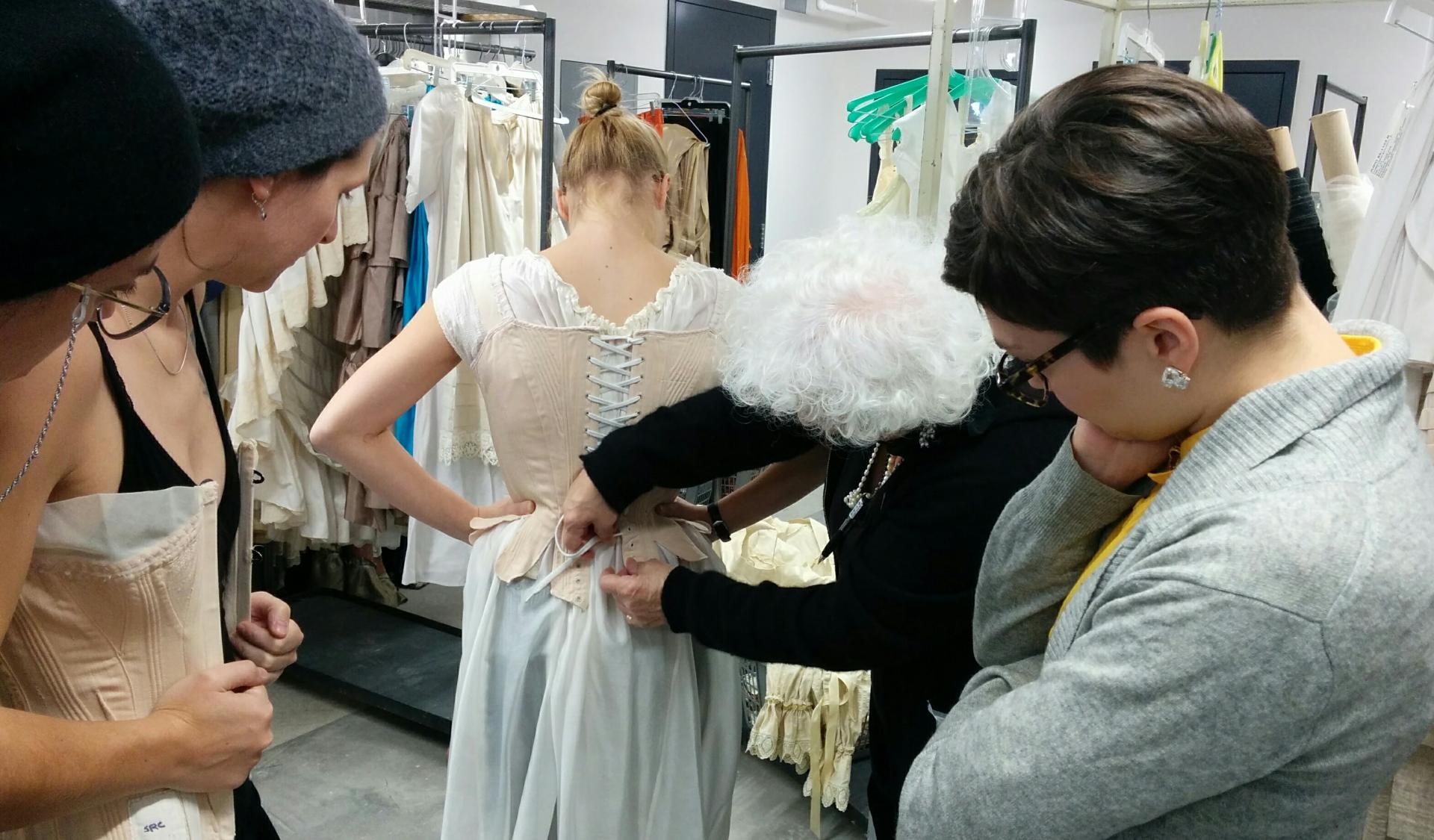 Le Grand Costumier ensures the transmission of expertise in the costume-making trades by offering professional trainings. Intended for both up-and-coming and established designers, our master classes are taught by seasoned creators and cover many areas of expertise.
Next training: headwear (This class will only be given in French)
Hat maintenance, care and transformation – Men and women (detailed lesson plan coming soon).
Instructor:
Lucie Grégoire (commeunchapeau.com).
Modiste for over 30 years, Lucie Grégoire makes show hats (theater, cinema, opera ...) and creates hats under the brand Comme un chapeau. Headwear teacher, she also offers classes in her studio.
Schedule:
This master class will take place on the following dates:
September 28th
October 5th
October 12th
Attending all 3 sessions is mandatory as the techniques and lessons overlap from one class to another.
Schedule:
3 periods of 3 hours
- Two introductory periods to the basic notions required (6h)
- An additional period to finish and trim hats (3h)
Participants:
8 to 10 people. This training is not intended for the general public.
The purpose of this course is to provide costume workers with basic skills to maintain, repair, adjust, modify and trim men's and women's hats.
Note that in order to practice these learnings, various exercises will be performed solely on the hats of the collection of the Grand Costumier. At the end of these exercises, the hats will remain at the Grand Costumier. See the full class outline here (in French only).
Objective:
To convey practical methods and tools to people working in costume in order for them to maintain and repair hats from different eras and materials.
Prices (before taxes):
$250 for all 3 courses.
For more information, contact info@grandcostumier.com or 438-896-4646.
Each year, Le Grand Costumier welcomes interns from various backgrounds. These internships allow different generations of designers to make important connections, and serve to enhance the collection's exceptional pieces. To become an intern, contact us at info@grandcostumier.com​.
Our Research Centre is located in a bright and comfortable space where you can browse through a wide selection of more than 750 books, encyclopedias, magazines, archives and period patterns at your leisure, for consultation on site or for loan.
See our Research Centre page for more information.